Saturday, September 23rd is the Autumnal Equinox for the Northern Hemisphere—signaling a transition to fall, when leaves and temperatures drop, days become shorter and nightfall arrives earlier. What are your plans to ring in this astronomical event? On the Bloomingdale Trail, there is an annual tradition of neighbors gathering up at the Observatory on the west end at Ridgeway, to either watch the sun rise or set on the Equinox—it even has its own name: Bloomhenge. 
And while we might not have massive sacred stones in a circular formation, we do have a spiral path that leads to an elevated space encircled with a stainless steel blade with notches in it. Have you ever wondered what they were for? The observatory's blade and three rectangular notches were designed by artist Frances Whitehead (with the help of some astronomers at The Adler Planetarium) specifically to frame the sunsets on the first day of each new season: the summer solstice, the winter solstice and the vernal and autumnal equinoxes. And with Bloomhenge—the name which we have on good authority was coined by longtime Friends of Bloomingdale Trail member Michael Burton—we have a group of neighbors who make a point of celebrating the transition to a new season on the trail and always welcome folks to join in the ritual. 
For you early risers who wish to celebrate the fall equinox in the morning, the sun will rise at 6:38 am. Should you wish to watch the sunset (and hopefully see the orange glow from the sun drop into the appropriate blade) it is scheduled for 6:48 pm.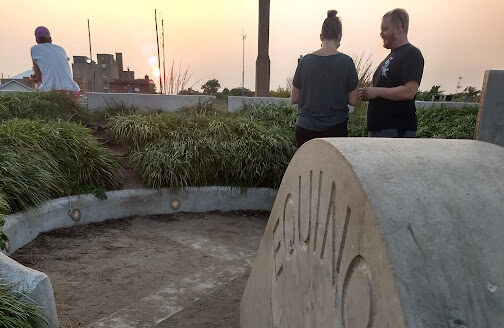 Happy Fall Equinox/Bloomhenge, everyone! Even if you can't make it, here's a fun video, featuring Michael Burton's band, Urban Spacemen, rocking the Bloomhenge with a song of the same name.